AutomaTech GE Digital Training Overview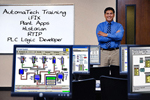 AutomaTech is a GE Digital certified STEP (Strategic Training and Education Partner) training center. Our Classroom Training courses provide our customers with a comprehensive level of instruction on how to use their GE Digital products most effectively. Each course is taught by expert GE certified instructors, who work directly with participants in a hands-on classroom atmosphere providing a highly interactive educational experience.
Classroom Training
AutomaTech Classroom Training is held throughout the year in various Northeast locations. We also offer distance learning classes through WebEx.
Online courses
You can now meet your time and cost budgets as well as your technical training requirements with Online Learning.
Each course is geared toward performance objectives to provide learners with practical conceptual knowledge, valuable skills and interactive assessments for immediate feedback.
All online modules are sent through your web browser and your progress is tracked - so you can leave and resume training per your schedule.
Instructor Lead Training
AutomaTech offers the following instructor lead courses scheduled at one of our facilities (see top of the page) or onsite at your facility. To get a quote for a training solution tailored to your needs please email us at registration@automatech.com.