Cyber Security Solutions For Industrial Operations
We Simplify The Complex World Of Industrial Cybersecurity
Our experts are dedicated to helping industrial operations thoroughly understand the benefits and distinctive processes of industrial cyber security. Our mission is to help keep you protected. As facilities rely more and more on connected equipment or systems, which may include remote access, it is important to secure your networks and digital infrastructure.
To help you better understand your operational industrial cyber security needs, we offer assessments and services that provide a more well-rounded, personalized analysis of your situation to take practical steps toward securing your critical infrastructure.
Our Solution Architects can recommend products that combine ease-of-use and security to let you get the most of your connected equipment and data-driven processes.
Schedule An Assessment or Talk To An Expert
The Foundations of Cybersecurity
AutomaTech prides itself on providing industrial companies cybersecurity solutions that offer world-class protection.
Have a cyber plan & roadmap
Have a Network Diagram
Be organized and know where your devices are located
Protect
Use contemporary firewalls, managed switches, use Linux based solutions
Segment your OT from your IT networks
Use and adopt MFA on all systems
Use virtual machines wherever possible
Install an OT cyber threat detection system
Your OT cyber detection systems should work with your DMZs and firewalls

Develop a robust process and response plan
Have organized plant to shut-down systems
Twice annually, validate your back/restore (DR) process
Have quick process o disconnect and isolate OT network and compute platforms
Have a plan to restore your OT systems in a defined stat-up sequence
Validate you are reloading latest versions of your configuration files for VFDs, PLCs, SCADA & other OT systems
How Much Security Do I Need?
Download our brochure to see our risk level vs. cost matrix and learn about the right balance between cost and protection for industrial cyber security.
Today's OT Systems Need IT Security Capabilities
Industrial companies require stronger OT cybersecurity programs to deal with today's sophisticated threat environment. Managers need to invest in more advanced cybersecurity capabilities that can enable active defense of critical operations. Download this ARC report describing the major gaps in today's OT cybersecurity programs and what's needed for today and tomorrow's more challenging threat environment.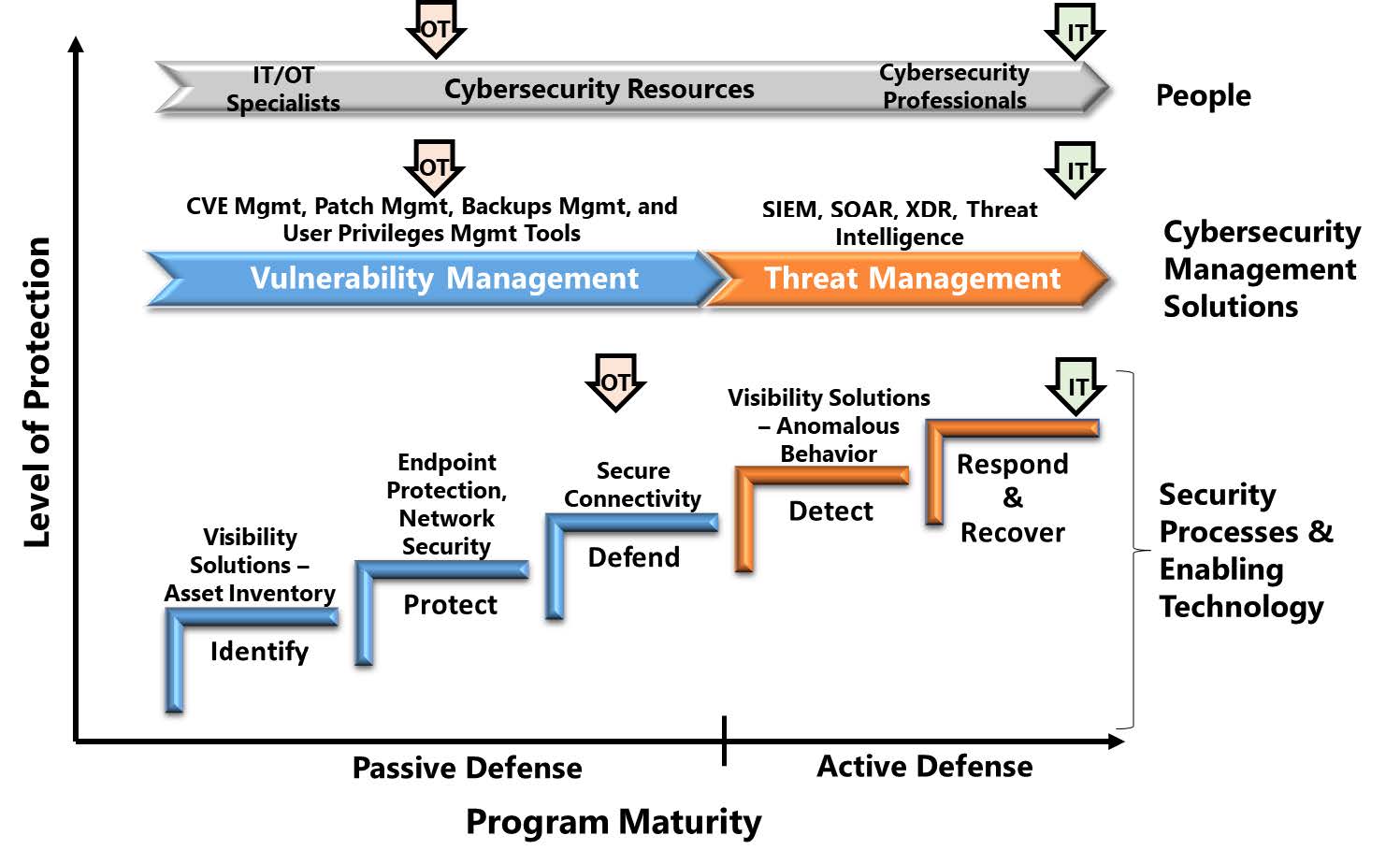 Read What Our Customers Say
Operation protected a Critical Remote Facility with a platform that monitors, identifies, and captures unauthorized access attempts.
Regional Utility Provider secured off-site control systems, which saved personnel from making long drives to the facility to troubleshoot issues.
Owner eliminated hundreds of network devices, reduced deployment times & staffing requirements. Realized tremendous savings.