PTC helps companies around the world reinvent the way they design, manufacture, operate, and service things in and for a smart, connected world. Our leading industrial innovation platform and field-proven solutions enable you to unlock value at the convergence of the physical and digital worlds.
Featured Product: ThingWorx
Transform Your Business With ThingWorx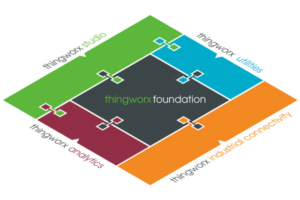 ThingWorx is the only platform that offers all of the capabilities needed to build and extract value from smart, connected operations. With rapid development tools and support for on-premise or cloud deployments—ThingWorx is the best IoT choice for companies serious about industrial innovation.  ThingWorx provides the functionality, flexibility and scalability that businesses need to drive industrial innovation─including the ability to source, contextualize and synthesize data while orchestrating processes and delivering powerful web, mobile and AR experiences.
ThingWorx can deliver rapid industrial innovation across your organization, including:
Improve customer experience leverage connected and enterprise system data to improve service, support and usability
Drive new revenue streams unlock new business models and opportunities
Optimize business processes combine real-time data with existing enterprise systems to increase efficiency
Differentiate product and service offerings increase the pace of innovation
Explore the capabilities of the ThingWorx Platform:
ThingWorx is a proven industrial innovation platform that enables the quick and easy creation of industrial IoT applications and AR experiences.
ThingWorx automates complex industrial IoT analytical processes and deliver real-time insights, predictions, and prescriptions.
ThingWorx delivers capabilities to define, monitor, manage, and optimize the performance of connected devices, processes, and systems.
ThingWorx connects disparate devices, systems, and applications, providing access to multiple sources of data for industrial IoT applications and AR experiences.
ThingWorx delivers a powerful platform for creating, deploying, and consuming industrial IoT applications and game-changing AR experiences.
Learn more about ThingWorx
If you'd like to learn more about PTC and the ThingWorx Platform click
here
to arrange a meeting.