AutomaTech has been a Partner and Manufacturer's Representative for GE's industrial software divisions or over 20 years!  AutomaTech was founded as a leading Intellution Representative in 1995, we continued to evolve through GE Fanuc's acquisition of Intellution and Mountain Systems in 2002-2003 and during the transition to GE Intelligent Platforms in 2010, all leading to the longstanding relationship today as one of GE Digital's key strategic Alliance Partners.  Our focus has always been to help customers automate and digitize their industrial processes using software from the GE Digital portfolio.  This includes Automation & Manufacturing Software like class-leading iFIX & CIMPLICITY HMI/SCADA and Historian, to scalable IIoT & Enterprise-wide Manufacturing Solutions like Plant Applications, Production Manager, Workflow, Predix, Asset Performance Management, Operations Performance Management and much more.
AutomaTech is proud to be a GE Digital Alliance Partner, we are helping transform industry with software-defined assets and solutions that are connected, responsive, and predictive. GE Digital is the leading software company for the Industrial Internet, reimagining industry's infrastructure by connecting software, apps and analytics to industrial businesses. GE Digital creates software to design, build, operate, and manage the entire asset lifecycle, enabling industrial businesses to operate faster, smarter and more efficiently.  With people, services, technology and scale, GE Digital delivers better outcomes for customers by speaking the language of industry and AutomaTech is your GE Digital Alliance Partner to provide guidance along the way.
Featured Product: Manufacturing Solutions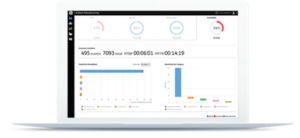 GE Digital's Manufacturing Solutions will help you Get Connected to your data, Gain Insights, and Optimize your operations and processes.  GE Digital provides a suite of software and services that helps manufacturers optimize plant operations and compress cycle times between market demand and production.  GE Digital's Manufacturing Solutions can be securely deployed on-premises, on GE's industrial cloud, and in hybrid configurations to reduce machine downtime and optimize operational efficiency.
Learn more about GE Digital's Manufacturing Solutions
If you'd like to learn more about GE's suite of software and services, click here to arrange a meeting.