Bayshore Networks is the leading provider of industrial cyber protection.  The Company's award-winning technology unlocks the power of the Industrial Internet of Things (IIoT), providing enterprises with visibility into their Operational Technology infrastructure while safely and securely protecting ICS systems, industrial applications, networks, machines, and workers from cyber threats.
Featured Solution:
OTfuse sits in front of critical endpoints, protecting PLCs and SCADA/DCS devices from unauthorized use, dangerous instructions and activities, and remote takeover from hostile sources. It features a bypass port pair for data in/out, requires no re-addressing of the network or assets, and is fully self-contained. No remote management console is required for setup or maintenance.
Product Features:
OTfuse offers turnkey protection for PLCs and SCADA/DCS devices
Native support for modbus, Ethernet/IP, S7
Reports via modbus to HMIs
syslog and email alerting
Hardware authentication for setup/admin
Standard DIN rail enclosure, 24VDC power
Easily set up in <1 hour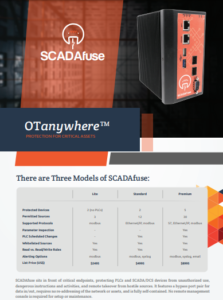 Click to download the OTfuse data sheet and learn more.
Contact
the Solution Architect team for detailed information on the product or to schedule a demo.