Tempered Networks has pioneered the Identity-Defined Networking (IDN) market. We live in a world that has become 100% Internet-connected in just 30 years. As transformative as that has been, it is fraught with network complexity, cost, and security shortfalls. The root cause of these issues is a defect in TCP/IP – where an IP address functions as a device identity – a role for which it was never designed.
We must move from Address-Defined Networking to Identity-defined Networking.IDN enables a self-secured network that basis trust on cryptographic identities, not vulnerable IP addresses. It ushers in Internet 3.0 where only only provably crypto-identified resources are networked.
LAN, WAN, and Cloud Segmentation Made Simple
Tempered's products enable the instant creation of zero trust overlay networks to securely connect and segment any device, over any network, across any location, with little to no change to existing infrastructure.
In an Identity-Defined Networking (IDN) architecture, trusted HIP Services and their protected endpoints are managed by the Conductor with point-and-click simplicity. HIP Services enforce Conductor-created network and security policies and are available in a broad set of hardware and software form factors, providing unmatched deployment flexibility and choice. The HIPrelay is the world's first identity-base router that delivers an isolated wide area overlay network with distributed high availability and horizontal scaling between privately-addressed and previously non-routable endpoints. With IDN, it is remarkably simple to instantly connect and protect any IP-enabled device for a radically secure and highly available network.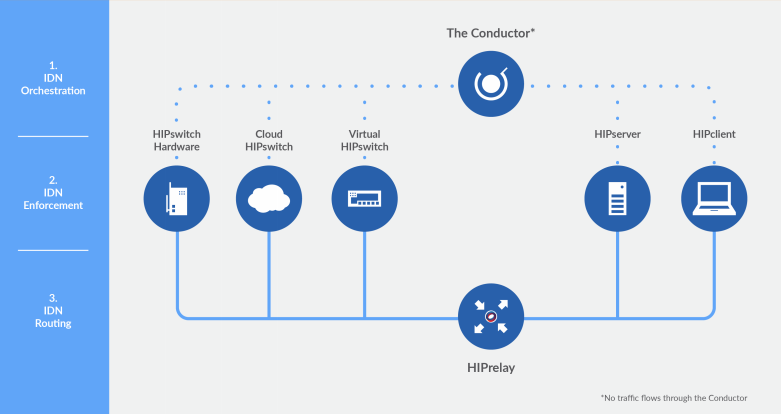 Only three components are needed to quickly deploy your own IDN fabric across any network, with little to no change to the existing switching and routing infrastructure. Together, IDN delivers simple and secure overlay networks with superior availability.
Orchestration (The Conductor) – Simple network management with automated policy configuration for all trusted IDN endpoints.
Enforcement (HIP Services) – Runs on or adjacent to any host and acts as the IDN enforcement point for network and security policy.
Routing (HIPrelay) – Identity-based routing delivering peer-to-peer connectivity between private or previously non-routable endpoints.
Interested in learning more about the Tempered Networks solution or seeing a demo of their product? Contact us to schedule an appointment with one of our solution architects.