AutomaTech is pleased to partner with Ondas Networks, a leader in the recently completed IEEE 802.16s-2017 standard, the new worldwide wireless standard designed specifically to meet the security, reliability and coverage needs of the Industrial Internet of Things (IIoT). Ondas Networks is a private network service provider that also designs, develops, manufactures, sells and supports its multi-patented, Software Defined Radio (SDR) technology. Mission critical industries including utilities, defense, oil & gas, and transportation companies can either subscribe to an existing Ondas Networks network or purchase and deploy the Company's SDR technology for their own private broadband cellular network. Ondas Networks' SDR technology supports IEEE 802.16s, the new worldwide standard for private wide area industrial networks.




This new standard addresses the data connectivity needs of automated electric grids, oil and gas pipelines and fields, rail and transportation, commercial and industrial drones, border security among other industrial needs. The standard uses dedicated licensed radio frequencies for the exclusive use of network connected devices. If your industrial wireless network is not 802.16s, then your data communications are potentially at risk to every user on the public internet. The standard is the elemental building block in the Industrial Internet of Things.



Featured Product: FullMAX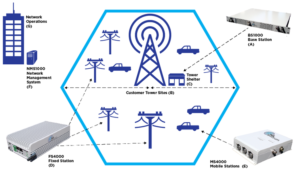 FullMAX™ is a point-to-multipoint, wireless radio system for secure, licensed, private, wide-area broadband networks. FullMAX™ has been designed from the ground up (or should we say the tower out) to meet the needs of electric utilities and other mission critical entities. This software defined radio is rapidly becoming the standard in private, licensed, broadband networks for electric utilities.




A FullMAX network consists of our high power FullMAX BS1000 base stations, FS4500 Outdoor Remote radios and our highly compact Cobalt-Plus Remote radios.

With FullMAX™, you are not tethered to a single communications standard like LTE or WiMAX. It runs wireless communications protocols on general processors and FPGAs eliminating the never-ending obsolescence driven by dedicated chipsets. FullMAX™ networks are completely customer owned, customer operated and customer controlled. All using licensed spectrum below 1 GHz.



Learn what a FullMAX™ network can do for you
If you provide us with your tower and remote locations, we will generate a complete RF study based on FullMAX™ technology at no cost or obligation. Just click here to arrange the study.